Most people will start out in the city by shopping in their neighborhood for groceries, household items, clothing, etc. In this section, we have compiled a list of popular stores by neighborhood that can be reached by public transportation.
Chinatown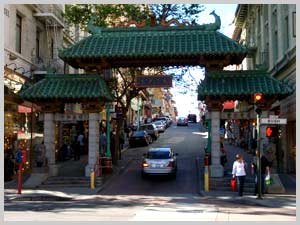 Famous for being the largest Chinatown outside of Asia, this is a place you will want to visit over and over again. Begin your tour at the Gateway to Chinatown on Grant Ave and Bush Street. Apart from the great produce shopping on Stockton Ave (between Columbus and Broadway), you do not want to miss the Golden Gate Bakery at 1029 Grant Ave, House of Nanking restaurant at 919 Kearny Street (near Jackson), the Wok Shop at 718 Grant Ave, and the Chinese New Year Parade held in February. 
Geary Boulevard/Clement Street
Trader Joe's at Masonic/Geary is a one-of-a-kind grocery store offering healthy international specialty foods (frozen entrees, pasta, produce, tea, coffee, wine) at a very low price. Further down on Clement Street between Arguello Street and 20th Avenue is a chain of international restaurants, cafés, and shops (Thai, Burmese, Indonesian, Chinese, Malaysian, Taiwanese, Vietnamese, Russian, and Japanese, to name a few), as well as a wonderful new/used bookstore known as Green Apple.
Haight Street
Starting at Golden Gate Park, Haight Street is famous for their trendy shops and alternative atmosphere. With Cala Foods, Amoeba (giant discounted music and video store), Goodwill Industries (secondhand clothes and furniture), it is always worth a visit.
Irving Street
Between 20th and 25th Avenue on Irving Street, you can find several inexpensive and good quality Asian grocery stores, bakeries and restaurants. It is also a great place to buy inexpensive household items. Try Sunset Super on 25th Avenue for one of the most inexpensive and complete Asian food shopping experiences in San Francisco.
Japantown
Located on Geary Blvd between Fillmore and Laguna, it's a must visit for authentic Japanese food, groceries, gifts, books and antiques. Be sure to check out Kabuki Hot Springs (indoor bath spa), and Kinokunia Bookstore in the Japan Center at 1581 Webster St.
Market Street and Union Square
Union Square is at the Powell Street Station exit if you are taking public transportation. It is outdoor shopping with all the major department stores (Macy's, Neiman Marcus, Nordstrom, Saks Fifth Avenue, etc.), and all the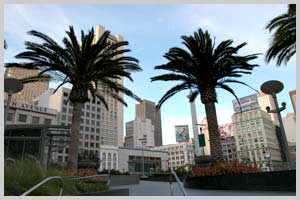 specialty stores (Tiffany & Co., Banana Republic, Gucci, Prada, Armani, William Sonoma, etc.). On the weekend, there is entertainment and art fairs in the square, and it is beautifully decorated at Christmas time. 
There are excellent produce markets in virtually every neighborhood, and the prices are generally much better than in supermarkets. In addition, on Sundays and Wednesdays, a farmer's market is open from 7:00 a.m. - 5:00 p.m. on Market Street, between 7th and 8th Street. On Saturdays, try the Alemany Farmer's Market at 100 Alemany Blvd. (where Hwy 101 and I-280 intersect in San Francisco), or the farmer's market at Ferry Plaza in the Embarcadero (at the end of Green Street).
Stonestown Galleria
Located on 19th Ave and Winston St., the Galleria is an upscale shopping mall featuring specialty shops.
Serramonte Metro Center (Daly City/Colma)
Located off Highway 280 at 3 Serramonte Drive. 130 stores including Target (household items, clothes, toys) and Macy's. Home Depot (home and garden supplies), Nordstrom Rack, Marshall's, and JoAnn's (crafts, fabrics) are located nearby at the 280 Metro Center.