UC Office of the President Travel Advisory: The U.S. State Department has issued a Level 4 — Do Not Travel Warning for Ukraine due to the conflict. As a result, and out of concern for the well-being and safety of the UC community, we are directing all members of the UC community to avoid all travel to Ukraine at this time. Additionally, travel to neighboring countries should be carefully evaluated.
Know and Manage Your Travel Risk
Emergency Numbers
Travelers who have registered for UC Travel Insurance use the following emergency numbers:
Outside the US: 1-630-694-9804
US: 1-855-327-1420
---
UC-Sponsored Travel for Faculty Staff and Other Employees
Review

UCSF Travel Restrictions and Guidance
Register

International: Register for free and required UC Travel Insurance for UC-related work or study, which travelers should contact for any emergency. Register for recommended US Department of State emergency alerts for specific locations.

U.S. Travel: UC Travel Insurance is free and recommended for UC-related work and study, and available when you are 100 miles or more away from work
Risk Assessment

International Risk Information by Country
Check for rapidly changing conditions due to terrorism, disease, etc.

U.S. Travel Risk Information by Location
---
Critical information for specific travelers
Additional resources for all travelers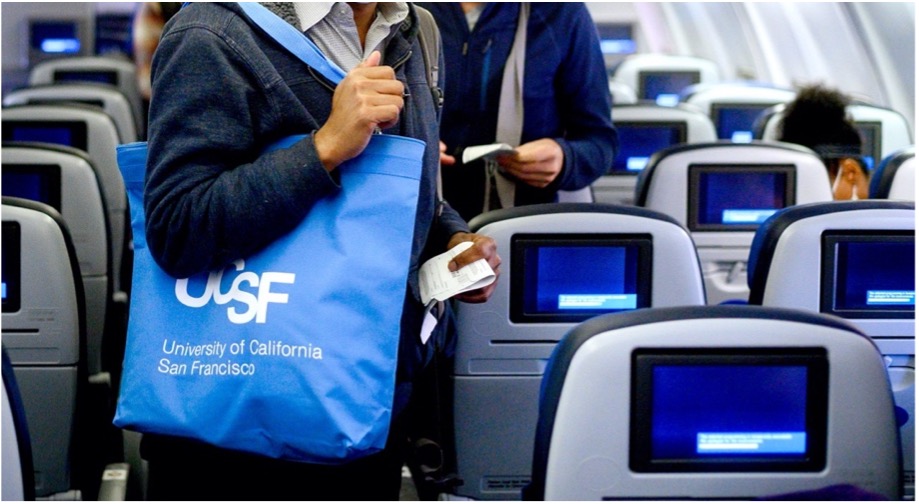 Traveling with Electronic Devices or Controlled Exports and Other Regulatory Issues for Travelers
Travelers with Specific Concerns, Risk or Medical Requirements
Travel for Visa Holders
Before traveling abroad, the UCSF International Students & Scholars Office recommends reviewing the following resources
Review travel and U.S. re-entry information based on your visa type:
If you have questions regarding your travel after reviewing the information above, please contact your ISSO Advisor.
Additional Resources
UCSF Connexus and Risk Management Advising
Connexxus – Preferred travel booking system for UC employees and students
Travel Webpage – For UCSF Risk Management Advising and Insurance Services
UCSF international affiliations
Countries' General Information
Country Risk Ratings by Other Governments
Student Travel
Professional Students
Graduate Students
Complete all Graduate Division-specific requirements on the Trainee International Travel Resources (TITR) CLE course
Contact your program administrator for program-specific requirements and resources
Conference and Personal Travel
International Travel for U.S. Visa Holders